Help Find Your Next Boca Raton Home
Welcome to MJS Financial LLC, your trusted destination for Boca Raton FHA loans. We are delighted to offer you a comprehensive range of financial services tailored to meet your unique needs and help you achieve your homeownership goals.
With our expertise and commitment to exceptional customer service, we are dedicated to guiding you through the intricacies of FHA loans, ensuring a seamless and rewarding experience. At MJS Financial LLC, we understand that purchasing a home or refinancing an existing mortgage can be a significant financial decision.
That's why our team of seasoned professionals is here to provide you with the knowledge, resources, and personalized attention you deserve. Whether you are a first-time homebuyer or looking to leverage the benefits of an FHA loan, we have the expertise to navigate the complexities of the process and help you make informed choices.
With an in-depth understanding of the local Boca Raton market, we have established strong relationships with lenders and a track record of success in securing FHA loans for our clients. We believe in going above and beyond to exceed your expectations, and our commitment to transparency and integrity sets us apart.
At MJS Financial LLC, we value your time and financial well-being. That's why we strive to simplify the loan application process, ensuring that you have a clear understanding of the terms, requirements, and benefits of an FHA loan. Our goal is to empower you to make confident decisions that align with your long-term financial goals.
We invite you to explore our website and discover the comprehensive range of services we offer. Whether you have questions about your Boca Raton FHA loan eligibility, down payment requirements, or the advantages of working with an experienced mortgage professional, our team is ready to assist you every step of the way. Thank you for considering MJS Financial LLC as your trusted partner in your Boca Raton FHA loan journey. We look forward to serving you with excellence and helping you unlock the doors to your dream home.
Read Our
Boca Raton Reviews
Josh Solomon
March 30, 2023.
An easy 5 stars, I'd put more if I could. MJS made the process of securing a mortgage so seamless. They exhibited the utmost in professionalism and kindness. Highly recommended!
Michelle Dabrow
March 30, 2023.
Amazing brokerage! Ben worked quickly and efficiently. He always had what was best for me as his priority.
Taly Feldman
December 16, 2022.
Martin and Ben are always prompt and informative. I highly reccomend working with them for your mortgage needs.
Tomer Alcalay
January 12, 2022.
Knowledgeable, proactive and very responsive. It was a pleasure working with Ben to get the loan closed.
Ely Amos
November 10, 2021.
I couldn't have found better mortgage brokers to work with than Martin and Ben. They walked me through every step of the mortgage process with great professionalism and knowledge. I was completely new to the process so I was really appreciative of their responsiveness to my emails and phone calls as well as prompt and thorough replies to all of my questions. They are a terrific team that skillfully navigated me through a long and sometimes complicated process. Would recommend their services in a heartbeat.
Yeshai Bane
October 4, 2021.
Martin and Ben were extremely helpful and a pleasure to work with.
Avi Raden
August 9, 2021.
Made the process as smooth and efficient as possible. Very responsive and accessible throughout, which was greatly appreciated. Excellent service.
Michael Roth
July 21, 2021.
Very knowledgeable and helpful and a pleasure to work with! MJS Martin and Ben went way above and beyond the call of duty! They were helpful in getting us the mortgage and held our hand throughout the whole process! He offered us many options and helped get insurance and also was helpful when it was time to close. They were always just a phone call away. Highly recommended!!!
Dave Monroe
July 21, 2021.
Martin & Benjamin have years of experience in the Boca market and helped to make my home purchase very simple and easy. I would definitely recommend anyone looking for competitive rates and great customer service to work with them. David Monroe
Outstanding loan team. I have done numerous loans with them and each time they have provided excellent service, excellent communication and excellent rates. I highly recommend them.
Licensed FHA Boca Raton Broker
Newest In Mortgage Technology
Multiple Lenders To Choose From
Top Things To Do In Boca Raton
Visit the beach: With its beautiful sandy beaches and crystal-clear waters, Boca Raton is a paradise for beach lovers. Some of the most popular beaches in the area include Red Reef Park, South Beach Park, and Spanish River Park.
Explore the art and culture scene: Boca Raton is home to a vibrant art and culture scene, with numerous galleries, museums, and theaters to explore. The Boca Raton Museum of Art, Mizner Park Cultural Arts Center, and the Wick Theatre and Costume Museum are just a few of the many cultural attractions in the area.
Shop and dine in downtown Boca Raton: Downtown Boca Raton is a bustling hub of shops, restaurants, and entertainment venues. Some of the must-visit spots in the area include Mizner Park, Royal Palm Place, and the Town Center at Boca Raton. Whether you're in the mood for upscale shopping or casual dining, downtown Boca Raton has something for everyone.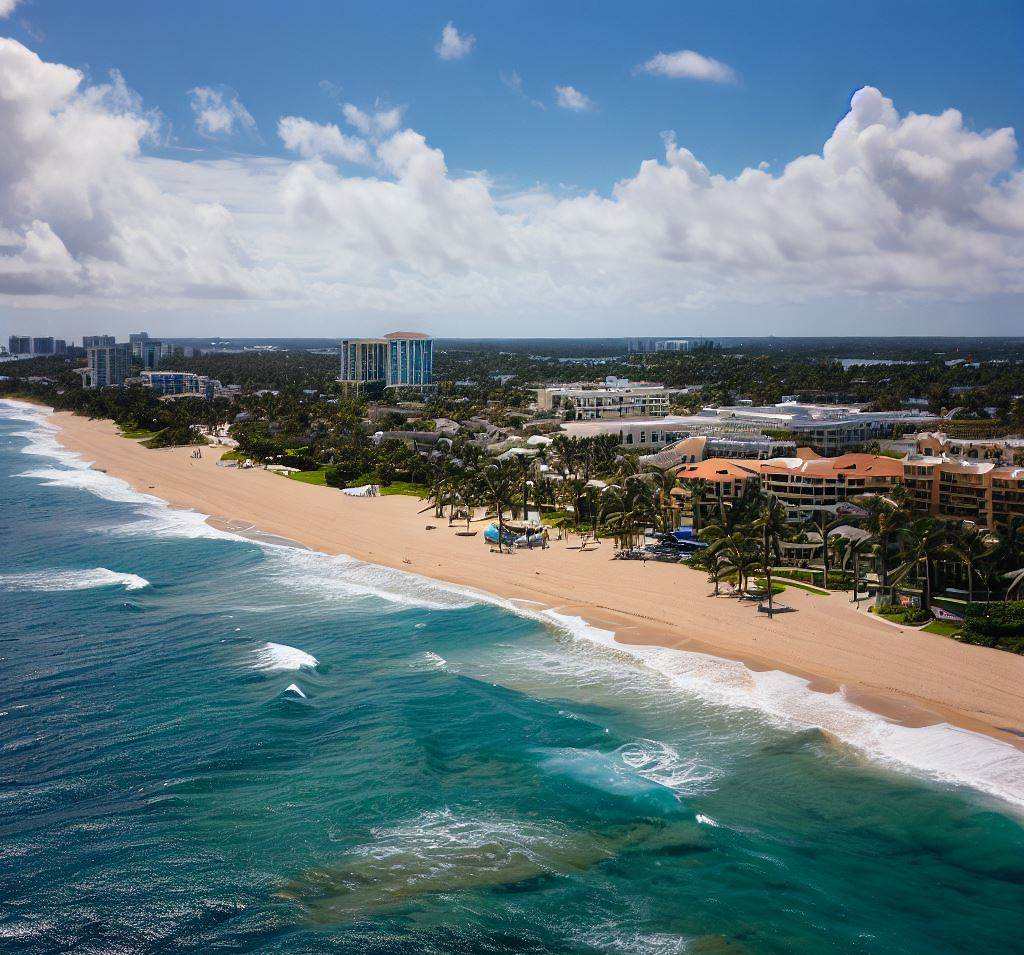 FHA Loan Boca Raton Easy Pre-Approval!
If you're looking to purchase a home in Boca Raton, an FHA loan can be a valuable financing option. Designed to make homeownership more accessible, FHA loans offer several advantages specifically tailored to borrowers in Boca Raton. Let's explore the key features of FHA loans and how they can benefit you:
Low Down Payment: One of the most appealing aspects of FHA loans is the low down payment requirement. With an FHA loan, you may qualify for a down payment as low as 3.5% of the purchase price. This can be particularly advantageous for first-time homebuyers or those with limited funds for a down payment.

Flexible Credit Requirements: FHA loans have more lenient credit requirements compared to conventional loans, making them an attractive option for borrowers with less-than-perfect credit or a limited credit history. If you have a lower credit score, an FHA loan may still be within reach, allowing you to achieve your dream of homeownership.

Competitive Interest Rates: FHA loans often offer competitive interest rates, providing borrowers in Boca Raton with the opportunity to secure a mortgage at a favorable rate. Lower interest rates can result in more affordable monthly mortgage payments and long-term savings over the life of the loan.

Assistance for Renovations: The FHA 203(k) program allows borrowers to finance the purchase or refinance of a home, along with funds for necessary renovations or repairs. This can be beneficial for those looking to invest in a property that requires updates or improvements, as it provides a streamlined financing option.

Borrower Protections: FHA loans come with borrower protections, including the ability to negotiate repairs with the seller before closing and limitations on certain fees. These protections aim to ensure a smoother transaction and protect the interests of FHA borrowers.
To benefit from an FHA loan in Boca Raton, it's important to work with a knowledgeable mortgage professional who specializes in FHA financing. They can guide you through the loan application process, help you determine your eligibility, and provide personalized advice to ensure you make the most of this financing option.
It's worth noting that FHA loans also have specific property requirements. To be eligible for an FHA loan, the property must meet certain standards for safety, habitability, and soundness. Working with a real estate agent experienced in FHA transactions can help you identify properties that meet these requirements and streamline your home search.
In summary, if you're considering homeownership in Boca Raton, an FHA loan Boca Raton can be a valuable tool to turn your dreams into reality. With low down payment options, flexible credit requirements, competitive interest rates, and assistance for renovations, FHA loans provide an accessible path to homeownership in this vibrant Florida city. Consult with a trusted mortgage professional to explore your options and take advantage of the benefits offered by FHA loans Boca Raton.